BARRA GRANDE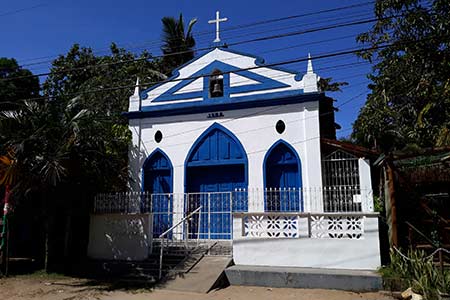 Few places on the Brazilian coast have succeeded in preserving their charm and their environment. Barra Grande is one of them. Far from the most famous tourist centers, this peaceful village and its splendid beaches fascinate everyone who goes there.

THE VILLAGE

Because of the difficult access this place has preserved the typical atmosphere of an old fishermen village. Simple charming houses are surrounded by gardens with many flowers, coconut palms and mango trees. Children play on the sand in the middle of the street. Few cars circulate there. The quiet life of the population is rythmed by tide and bird songs.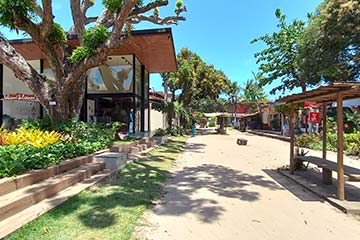 The way of life of Barra Grande is contagious. It is not rare to find people who fell in love with the place and decided to stay. There is now in the village an international community who lives in harmony with the local fishermen. The cultural diversity of Barra Grande is reflected in the variety of bars and restaurants.


GETTING TO BARRA GRANDE

Most of the tourists go there by boat, from Camamu, or by small aircraft from Salvador. Getting there by car is generally impracticable. The ride is over 50km on an unpaved road in very poor condition.
> MORE ABOUT TRANSPORT
WHERE TO STAY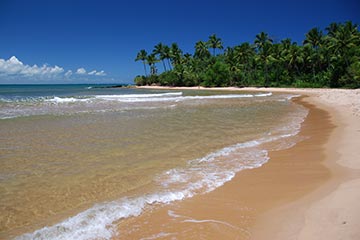 Most of the pousadas (lodges) of the Maraú Peninsula are located at Barra Grande. Some houses of the village can be rented by the week or the month. There are also pousadas on other beaches of the Peninsula. Some pousadas offer a certain comfort, but most of them are very simple.


MANGUEIRAS BEACH

The main beach of the village has white sand and calm water, without waves. Some bars sell drinks and seafood.

One has to spend an afternoon on the beach to observe the variations of light. The sunset on the Camamu Bay is fantastic.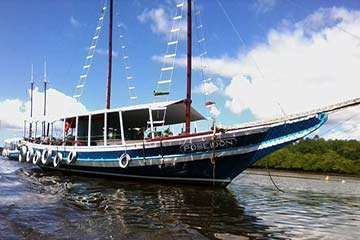 STARTING POINT FOR ADVENTURE

There are many beaches in Maraú. Recreational vehicles are available to transport visitors to Taipu de Fora and other distant beaches of the peninsula.

It is also possible to rent a boat to explore the beauties of the Camamu Bay and its many islands.