THE TOWN OF MARAÚ
Far from the beaches is the chief town of the County, Maraú, which is located in the middle of the peninsula, on the Camamu Bay. Tourists do not usually go there. It is a fishermen village with old houses, stone-paved streets and gentle people who maintain typical traditions from Bahia.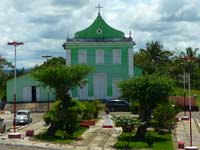 HISTORY

Maraú was founded in 1705 by Italian Capuchins monks on a site of and Indians settlement called "Mayrahú".

No one knows about the disappearance of this Indians tribe nor to which branch it belonged.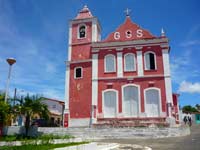 In 1717 the district of Mayrahú was officially created and the chapel constructed by the Capuchins was raised to the category of parish, under the name of "São Sebastião de Mayrahú", by the archbishop Dom Sebastião Monteiro da Vide. The parish was raised to the category of village in 1761.

March 30, 1938, the village became an independent county and received the current name of "Maraú".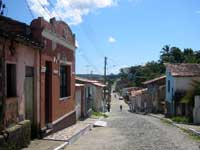 In 1860, England obtained the right to install a kerosene destillation factory in Maraú. The factory functioned during 4 years on the banks of Rio Maraú.

It employed approximately 500 workmen and had an internal railroad with two locomotives. It produced kerosene, but also candles, soap, sulfuric acid and waxed paper to wrap food.

The ruins of the factory and the tracks of the railroad have remained until today.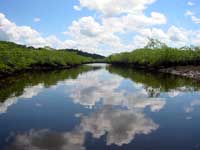 RIO MARAÚ

The town of Maraú is an good starting point to explore Rio Maraú, which is the part of the Camamu Bay that separates the Peninsula and the rest of the continent. Rio Maraú is rarely visited by tourists who prefer the beaches of the Peninsula. By the way, there are many beautiful landscapes to be visited in the Rio Maraú area, with mangroves, forests and waterfalls.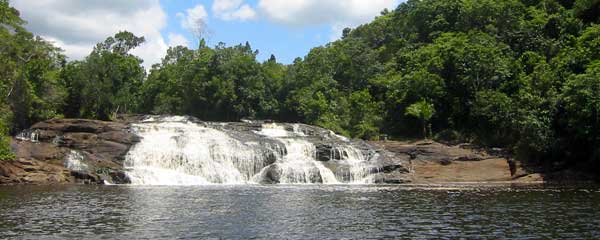 TREMEMBÉ

The small fishing village of Tremembé is almost at the end of Rio Maraú. The great attraction of this place is a great waterfall that falls directly into the water of the bay (photo below). The village and the personality of its inhabitants is worth spending a moment there.